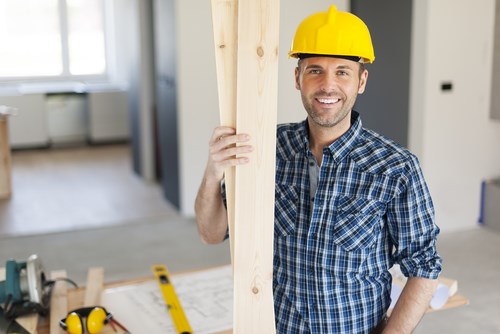 So, you're researching home improvement companies? You have quite the task ahead of you! There are many remodelers out there, all of which claim to offer the best products and services. How do you know which contractor works for you—and better yet—how do you avoid falling for a local scam artist?
Here are some quick tips that can save you tons of time and hassle when planning your next home remodel:
Set Your Goals in Order
What is the focus of your home remodel? Although there are many general contractors that offer a broad service variety, sometimes it's best to go with a company that specializes in your specific remodeling needs. For example, if you need new wood cabinets, a cabinet remodeler probably offers higher-quality products than your run-of-the-mill home remodeler.
Create a clear vision for what you're going after, both aesthetically and functionally. From there, you can determine the kinds of products and services you need and start working on a budget.
Find Recommended Remodelers
Once you know what kind of contractors to look for, the real fun begins! Ask friends and family for recommendations or go online and browse customer reviews. To avoid fake review scams, go to the National Association of the Remodeling Industry or the local building inspector for quality recommendations.
Get Them on the Phone
After you have a few contractors in mind, give them a call. Consider the knowledge and responsiveness off their customer service representative, because this gives insight into their dedication to customer service—or lack thereof. Before you call, have a list of questions ready that will help you narrow down your contractor candidates:
Do they offer services for the scope and size of your remodel?
How much experience do they have and what proof of competency can they show?
How long will it take them to complete the remodel?
What pricing and financing options are available?
Do they offer warranty protection?
Schedule a Consultation
Now that you have a list of preferred home improvement companies, schedule an in-home consultation. At this time, you can get detailed information about their products and services and create a remodeling plan that suits your needs perfectly. You will also get a greater sense of whether a company will serve you well when meeting with a member of their team in person.
Compare Prices and Customer Perks
Before you settle on a remodeler, take some time to consider the information you gathered so far. Compare their service selection, experience and reviews, timeliness, and their customer service. Comparing prices is also important, but keep in mind that when it comes to home remodeling, you often get what you pay for. Stay on budget, but beware of prices that seem too good to be true—because they probably are.
Seal the Deal in Writing
Any reliable home remodeler will offer a written cost estimate that provides details about your specific remodeling project. Make sure your contract also includes payment scheduling, proof of liability insurance, project completion date, and details about the specific products being used for an up-front cost estimate that won't result in hidden fees later.
Looking for Cabinet Remodelers?
Are you looking for home improvement companies that specialize in cabinet remodeling? If so, Cabinet Restylers is here for you! We have provided quality products and services since 1967, and our family-owned business is known for honesty and dedication to providing each customer with the best remodeling experience possible.
---
Comments
No one has commented yet. Be the first to post one!