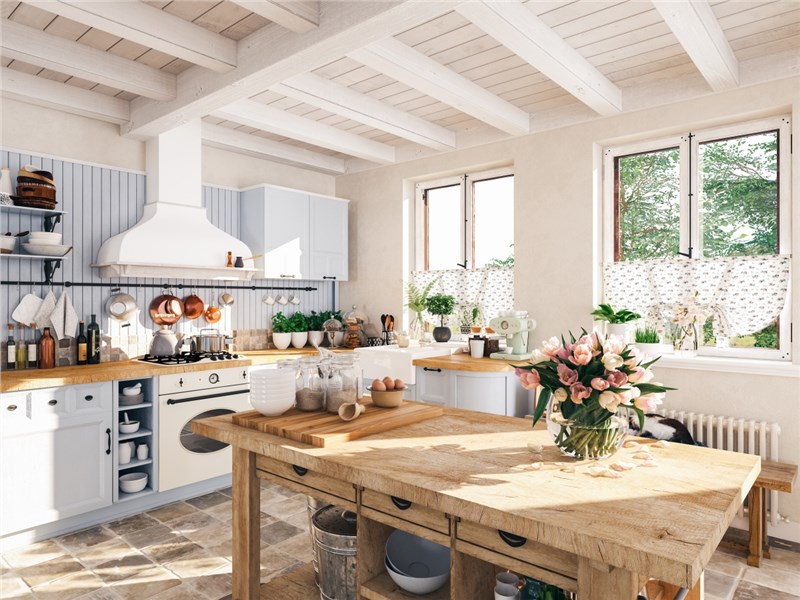 The cold, dark winter season is finally over, and spring is here. For many homeowners, spring is the perfect time to embark on a new home improvement project that will boost the value of their property and improve the quality of life of those living in it.
For many people, the ideal home is one that denotes a bright and happy space. For example, just take a look at the photos you see posted on Instagram, Pinterest, and printed across Good Housekeeping magazine covers. Dark, dingy homes have never been in style, and brightening up your home with a springtime revamp could be a great project to focus on this season.
Cabinet Restylers is a trusted family-owned cabinet manufacturer that's dedicated to beautifying homes with gorgeous, functional, and affordable cabinet upgrades. We know how dramatic a cabinet makeover can be in any home, which is why we're so committed to helping homeowners customize modern, stylish furniture that refreshes the entire property with a brighter, more modern look. In this article, we will share various tips on sophisticated springtime cabinet upgrades that will truly transform the way your home looks and feels.
Use Light Colors for Your Cabinets and Furniture
The color of your cabinets and other pieces of furniture can greatly influence how bright your space looks. White, off-white, blond or blanched wood and lighter earth-tones like light gray and beige can work wonders to make any room appear brighter because lighter shades will reflect more light. If your cabinets are in darker tones, like walnut or black, you can simply have a professional cabinet manufacturer such as Cabinet Restylers resurface them for you.
Let There Be Light!
If you have the budget, or if you're considering window replacement anyway in the near future, upgrading your home with larger windows is a great way to take advantage of natural light. Window installation is a fantastic home improvement project that will brighten up your entire home and enhance its value, especially if it's in a strategic place like the living room or a family room that's central to the house layout. While any large window style could work to bring in light, consider adding in a bay, bow, or a picture window for extra sunlight and aesthetic appeal.

If you're currently blocking the sunlight or windows of your home with furniture or clutter, a quick fix is to remove these items from your window areas. Another fast solution for brightening your home is to perform window maintenance. Deep cleaning on the outside and inside of dirty windows will help to increase the amount of natural light that enters your home.
Use Patio Doors that Allow Sunlight
Aside from installing larger windows, you can also replace wood or other solid material patio doors with clear, tempered glass doors that allow more natural light to come in. Glass doors, whether they're decorative stained glass styles or functional sliding doors, will open up your home with added light and ventilation. This is especially true if you like to keep the patio doors open during the warm months of the year.
Use Thin or Light-Colored Curtains
Using thick and dark-colored curtains can make a room look gloomy and dark. So if you want to make your room brighter, do the opposite—use light-colored curtains that are thin in order to allow the natural light to enter your home.
Add Mirrors
Aside from functionality, mirrors are wonderful for home décor as they open up a room with the illusion of more space and light. With mirrors placed strategically throughout your home, you can effectively make your house appear brighter, but also more spacious. Just like the effect of the color white, mirrors work because they reflect light that comes into the room.
Repaint the Interior of Your Home
As emphasized in different parts of this article, color affects how bright a room looks. If the interior of your home is painted in dark colors, it can appear gloomy, small, and cramped. If you'd like to open up your house with a bright, open look, consider repainting dark walls in yellow, white, light gray, or other bright shades.
Replace Your Lighting with White Bulbs
If your home's lighting has a yellowish tint, you can make your living space appear brighter by replacing them with new white bulbs. Also, you might want to check if you have enough lighting and add more light sources if necessary. An effective and hassle-free way is to buy decorative table lamps or standing light.


The Most Trusted Cabinet Manufacturer in OH
If you are looking for the best provider of stylish and durable products as well as cabinet restyling services, consider hiring Cabinet Restylers today. Since 1967, we have been the most preferred cabinet manufacturer in Ohio because of our strong commitment to excellence and customer satisfaction.
To learn more about how Cabinet Restylers can help you on your next home remodeling project, or how you can brighten up your home with beautiful new cabinet installation, call or email us today. Alternatively, you may fill out this quick online form to book a free consultation and get a no-obligation in-home estimate.
---
Comments
No one has commented yet. Be the first to post one!